THE SACRED HEARTS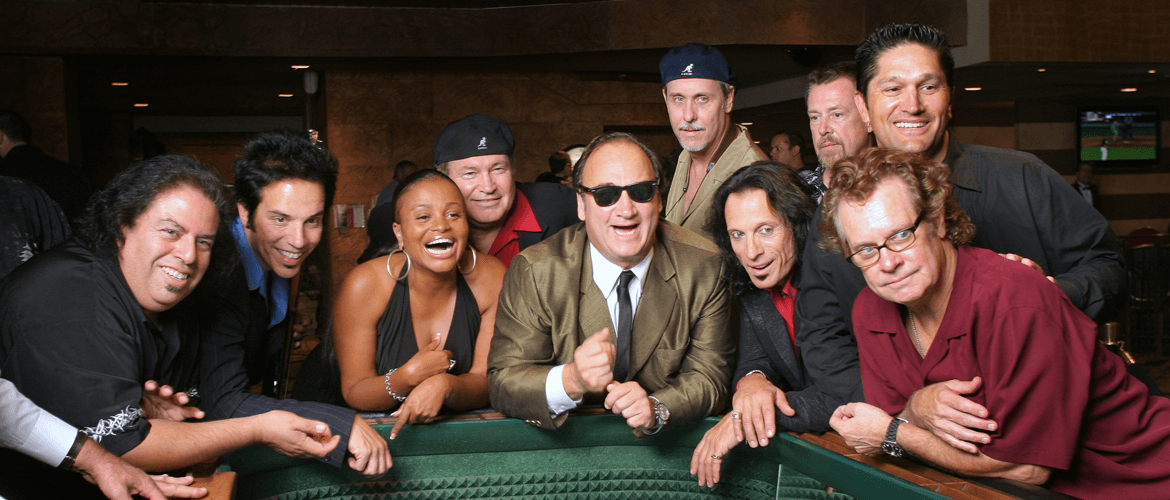 The first thing you need to know about Jim Belushi is that he's a performer. Not an actor, not a comedian, not a singer, but a performer. Which is pretty much all those things put together and multiplied by two or five or something. The second thing you need to know- and this is in some ways more important than the first thing- is that he has absolutely no shame. None. Zip. Zero.
Add those two things together and you have a pretty good working definition of that most indescribable of qualities known as presence. And, as anyone who's spent two minutes with the guy knows, Jim's got it. Big time!
So here's this guy, this presence, disregarding any and all warning signs and diving into life headfirst. From the live stages of Second City and Saturday Night Live, to the soundstages of "About Last Night", "K-9", "Mr. Destiny", "Return to Me," and, most recently, starring in ABC TV's breakout comedy series of 2002 "According to Jim", he has taken everything life's thrown at him and hit it out of the park. And, by the way, he's been having a blast.
Speaking of "According to Jim", the hit series happens to be very heavily influenced by the Sacred Hearts. Jim and the boys wrote and recorded the music for the show, and John and Tony are regular members of the cast. Who the hell are John and Tony? We'll get to that later.
So anyway, one day Dan Aykroyd asks him to join the Blues Brothers Band as Brother Zee- a possibly daunting proposition, even for Jim. Sure, he'd been on stage for years, but comedy and theatre are one thing (well, two things) but it's not like he'd ever fronted a blues band before.
However, in order to be completely shameless, one is required to be completely fearless, which Jim, of course, is, so he takes a beat, looks at Aykroyd and says the same thing he's been saying all his life. "Yeah, what the hell…why not? Sounds like a whole lotta fun!"
So, to get ready to play with the Blues Brothers, Belushi crashes rehearsals of the House of Blues' own band, The Sacred Hearts. He sits in with the band, laughing, acting, singing, dancing, in a word – performing. As it turns out, Jim was right because those rehearsals were "a whole lotta fun." So much fun, in fact, that for the last seven years the band has been Jim Belushi and the Sacred Hearts.
They've played for Al Gore, Governor Gray Davis and many other politicos. President Clinton is a really big fan and since one of these days he's going to be out of a day job, he'll probably want to sit in (Jim says he'll consider it). They play all the House of Blues venues, all the casinos, many benefits and hundreds of corporate events for the Fortune 500 companies. Word on the street is if it's going to be a tough audience, get Jim Belushi and the Sacred Hearts . . . a butt hasn't been born that can stay in a chair through their first set.
For those who like their Rhythm & Blues seasoned with a lot 'o soul with a Memphis sound, but who aren't on the White House guest list, the music is now available on the band's first CD, "36 x 22 x 36" (Platinum Records).
Belushi sings, talks, flirts (again, completely shameless), dances on table tops and does at least one back flip every show.
The Blues Brothers
November, 1978. Jake and Elwood Blues make their national television debut (and first paying gig) on Saturday Night Live with their breakthrough, high-energy rendition of Sam and Dave's classic "Soul Man." It was an overnight sensation that catapulted these two brothers from Calumet City, IL to the heights of stardom. "Soul Man" sparked a national summer tour, two platinum albums and the landmark feature film, The Blues Brothers.
Fifteen years later, after the passing of Jake, the long-lost Brother Zee finally peeled his face from the gutter to carry on the family tradition: a high-energy, authentic, rhythm-and-blues show band- with a South Memphis accent and an East Texas kick. Elwood Blues returns as "the legacy" and joins Brother Zee as "the blood," singing and dancing their way through all the greatest Blues Brothers hits: "Sweet Home Chicago," "Messin' with the Kid," and, of course, "Soul Man," all backed by the internationally renowned Sacred Hearts:
Meet the band members
Larry Lee Lerma (bass) – Larry has performed with The Blues Brothers, Sam Moore, Michelle Wright and recorded with Jimmy Vaughn and House of Blues recording artist Becky Barksdale.

Johnny Lee "Shotgun" Schell (guitar) – He has worked at a guitarist and singer in the recording studio for the last thirty years with such greats such as Bonnie Raitt, Joe Cocker, Etta James, Melissa Etheridge, Taj Mahal, Lyle Lovett and Buddy Guy. In 2002, he played on Grammy-winning albums by Jimmie Vaughan and Delbert McClinton and has since been working as a film composer.
Joe "Lester" Sublett (saxophone/composer) – Joe is an accomplished musician, who, along with Darrell Leonard as the "Texicali Horns," has worked on film soundtracks such as "Indecent Proposal," "Tommy Boy" and "That Thing You Do." He has performed with such legendary performers as Stevie Ray
Vaughn, Little Feat, B.B. King, Wynonna Judd, Travis Tritt, Elton John, Bruce Springsteen, and he won a Grammy for his work with Taj Mahal and the Phantom Blues Band. Joe has performed on television, on Grammy award-winning records such as "In Step" with Stevie Ray Vaughn and "Feels Like Rain" with Buddy Guy, as well as composed film scores.
Johnny "The Beast" Rubano (vocalist/trumpet)– John will tell you he's actually an actor who can sing. John is a former member of Chicago's famed Second City. His credits include numerous television and film roles, including regular appearances on "According to Jim." His voice can be heard on animated projects including "Pinky and the Brain," "Superman" and the lead voice in "The Greedy Show" on Shockwave.com. His previous music experience includes trumpet and vocals with the Kurt Goletz Big Band.
J.J. "Taboo" Holiday (guitar) – From Seattle to Chicago, J.J. has made the scene with Sunnyland Slim and legendary guitarist Hubert Smith. Then he went on to Cleveland to work with Robert J. Lockwood and to Memphis to work with Gus Cannon and Furry Lewis. Working with Bob Dylan's band, Carole King and The Blues Brothers, he continues to play on scores of movies for composer David Newman.
Melodye Perry (vocals) – Melodye is the female vocalist for LA station 92.3; she is also a singer/songwriter, having worked with producers David Banner and Warryn Campbell (Mary Mary). Most recently, she is the single vocalist on Tyler Perry's trailer for his new movie, "For Colored Girls." Her next venture is working on her solo project. She is excited about it and her future is bright.
Jimmie "The Dynamic" Wood (harmonica/vocals) – Jimmie is known by those who have heard him play as "The Cadillac of Harmonica Players." Ask Bruce Springsteen, Etta James, Bruce Hornsby, Gladys Knight, Cheap Trick and Megadeath. He's worked with just about everyone to show them how blue the blues can be.
Darrell "The Good Shepherd" Leonard (trumpet) – Darrell is a multi-faceted arranger and composer who has worked on the Rhythm and Blues Foundation Pioneer Awards, the Directors Guild Awards and has performed with Wilson Pickett, Stevie Ray Vaughn, Henry Mancini, Joe Walsh, Glenn Fry and scores of others. He even won a Grammy for his work with Taj Mahal and the Phantom Blues Band. Along with Joe Sublett as "The Texicali Horns," he has recorded with such greats as Smokey Robinson, Otis Rush, Linda Ronstadt, Little Feat, Lou Rawls and much, much more. He has done musical arrangements for such films as "Home Alone," "Swing Shift," "Indecent Proposal," "Tommy Boy," and, most recently, music for the soundtrack to "The Divine Secrets of the Ya Ya Sisterhood."
Tony "Diamond Ring" Braunagel (drums) – Born in Houston, Texas, Tony grew up listening to the rock, country, blues and gospel music that provided the soundtrack to his life. He has played with Eric Burdon, with Rickie Lee Jones of her "Girl at her Volcano" LP and toured with Bette Midler. He eventually joined Bonnie Raitt's band and worked on the Grammy award-winning "Nick of Time" and "Luck of the Draw." He has worked with hundreds of performers, even the cast of "According to Jim," where his regular appearances prove that John Rubano and Jim aren't the only actors in the bunch. And if he's never recognized with an Emmy for his acting chops, he'll have to console himself with the Grammy he received for his work with Taj Mahal and the Phantom Blues Band.
es Lovitt (trumpet) – Les is a classically trained trumpet player from the San Francisco Bay Area who studied with Brass Masters Edward Haug and Claude Gordon. After moving to Los Angeles in the early 1980s, he began touring with Woody Herman and the Thundering Herd, Mel Torme, Debbie Reynolds, Peter Nero, The Mcguire Sisters, The Monkees, Jack Mack, Glen Campbell and most recently with The Eagles. Les can be heard on more than two hundred recordings that include diverse artists such as Herbie Hancock, Bobby Womack, No Doubt, Neil Diamond, Bob Belden, Buddy Greco, Gregg Allman, Brian Setzer, Hoobastank, Mark Masters Jazz Composers Orchestra, Dwight Yoakam and Sheryl Crow (to name a few). He can also be heard on many Motion Picture Soundtracks, including "Always," "Mask," "Starsky & Hutch," "Someone to Watch Over Me," "McHale's Navy," "On Sunset," "Thelma & Louise," and "Big Mama." He currently resides with his family in Thousand Oaks, California.