According to Jim
It originally ran on ABC from October 1, 2001 to June 2, 2009 and was nominated for 4 Emmys.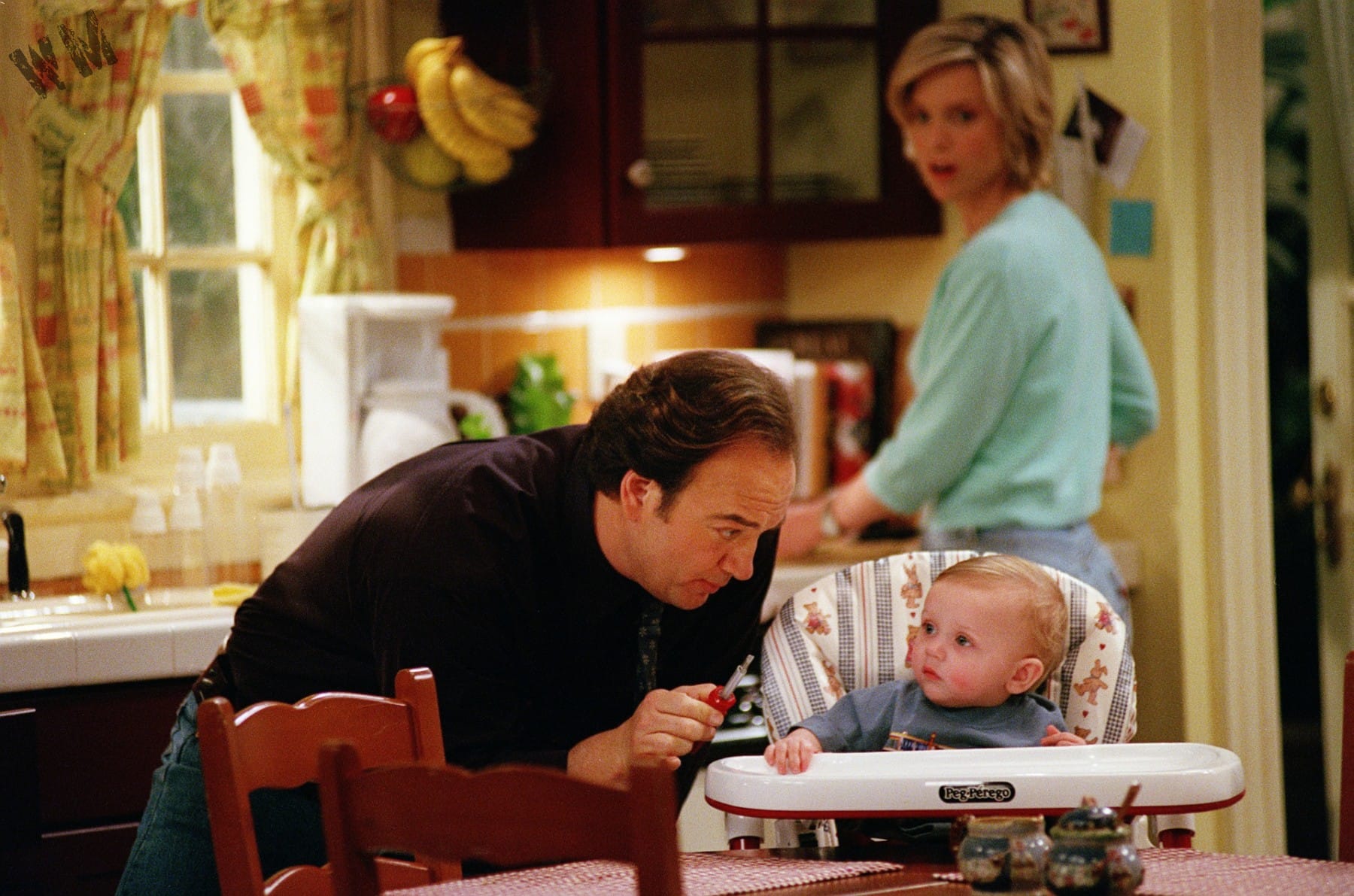 Jim (Jim Belushi) is the macho "Everyman" who challenges his gorgeous and feisty wife, Cheryl (Courtney Thorne-Smith), with his stubborn manliness but contagious charm. Tagging along with this duo of happily married opposites are their three precocious kids, Ruby (Taylor Atelian), Gracie (Billi Bruno) and Kyle (Conner Rayburn). In the seventh season they become parents of twins Jonathan and Gordon.
A success at his construction business and the family breadwinner at home, Jim feeds his other passion – blues music – playing with his six-man garage band. He keeps Cheryl in turmoil with his boyish bravado and ever willful antics, but their underlying love guarantees that they are in this marriage for keeps.
At the conclusion of 6th season, Cheryl's sister, Dana (Kimberly Williams-Paisley), and her husband, Ryan (Mitch Rouse), announced Dana was pregnant. As Jim and Cheryl eagerly await the arrival of the new family member, Jim continues to offer his trademark advice on all subjects — solicited or not.
Jim's brother-in-law, Andy (Larry Joe Campbell), continues to clumsily cruise for chicks for whom he is filled with audacious adulation. The inevitable slaps and drinks in the face only make him more determined in his quest to find Ms. Right. And as Jim's closest friend, he still covers for the latter's conniving capers, all to Cheryl's chagrin.
"According to Jim" stars Jim Belushi as Jim, Courtney Thorne-Smith as Cheryl, Kimberly Williams-Paisley as Dana, Larry Joe Campbell as Andy, Taylor Atelian as Ruby, Billi Bruno as Gracie and Conner Rayburn as Kyle.
Executive producers were Jim Belushi, Warren Bell, Suzanne Bukinik, Jonathan Stark, Marc Gurvitz, John D. Beck and Ron Hart. "According to Jim" is from Touchstone Television in association with Brad Grey television.
© 2006 American Broadcasting Companies, Inc. Photos used with permission